A fan came up with a theory about which classic song Stranger Things 5 might bring back – and it makes a lot of sense.
Season 4 of Stranger Things may only just have ended, but anticipation for the final instalment of the show – due in 2024 – is already at its peak. With so many characters' lives hanging in the balance, people want to know whether their favourite characters will make the final cut.
Well, we also know that Stranger Things likes using songs that are intrinsically tied to the storyline in some way or the other. Case in point: Kate Bush's 'Running Up That Hill', which became the soundtrack to Max's grief about Billy's death. Or, Metallica's 'Master of Puppets', a fitting song for Vecna, who controlled people by preying on their weaknesses and sadness before violently killing them.
So, yeah, one thing we know for sure is that Stranger Things is very particular and very intentional with their music.
Which brings us to this wild, but completely plausible, theory from a fan about which song we might see in Season 5 – and it would be one we've already heard before, all the way back in Season 1.
A fan speculates that as the Hawkins gang try to save the world, one of the things they might consider would be to send anything even remotely connected to the Upside Down back to that realm, thus removing any possibility of monsters finding a wayward connection to this world.
Unfortunately, that might include Will. As one of the first people trapped in the Upside Down for a prolonged period of time – not to mention him being Ground Zero for nearly all Upside Down-related activity in the world – the gang might just have to separate from Will for good. Well, here's where the song comes in.
Love Film & TV?
Get the latest Film & TV news, features, updates and giveaways straight to your inbox Learn more
"You know how Max's song 'Running Up That Hill' was a metaphor for how she wanted to swap places with Billy or something along the lines of that," said a fan named Clem on a video. "Well, what if Will's song is also a metaphor for a decision he has to make in Season 5?"
"Imagine, to close the gates, they have to put all connections to the Upside Down in the Upside Down. That would include Will, leaving him with the question: 'Should I stay or should I go?'" the fan added.
This, of course, is a reference to The Clash's 'Should I Stay Or Should I Go', which played a prominent role in Season 1. Not only was it the song that Will and his brother Jonathan bonded over, but it also calmed Will down when he was stuck in the Upside Down.
Later in the season, when Joyce is frantically looking for Will and trying to communicate with him, the song plays in the background as she gets the first glimpse of the monster from the Upside Down – thus setting off the events we know now.
Bringing the song back, thus, would not only bring things full-circle but also provide the emotional punch we're expecting (but are totally not ready for). As he might be faced with the choice of making the ultimate sacrifice, it seems a fitting tribute for his story.
For more on this topic, follow the Film and TV Observer.
Check out the fan theory about Stranger Things Season 5:
THIS COMMENT I JUST GOT….. pic.twitter.com/DW5AE3CWwO

— leah⁷ (@girlskth) August 12, 2022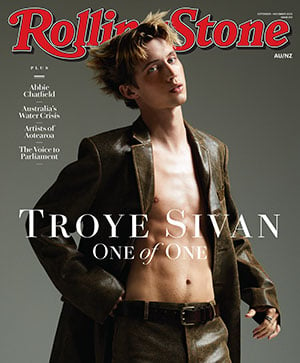 Get unlimited access to the coverage that shapes our culture.
Subscribe
to
Rolling Stone magazine
Subscribe
to
Rolling Stone magazine