This essay is syndicated from Bianca O'Neill's Medium.
Miu Miu's it girl is bothering me.
There's something about the return to the 00's era, super low rise waistbands that strikes fear into my post-two-babies body, sure. And the micro-mini skirts are positively terrifying to any person with a normal set of thighs. But it's more than just a couple of pieces of tiny, model-only clothing.
Something about the new Miu Miu era feels… problematic.
Their latest aesthetic goes beyond the clothing itself; instead, it seems Miu Miu are attempting to commodify thinness. For is there any body that works with this collection besides an ultra-skinny, bordering-on-concave stomach, and a set of pins to rival even the thinnest of models?
This attempt to trend-ify our bodies — going beyond the design to render a shockingly narrow body shape as part of this season's 'look' — should ring alarm bells for those of us seeking to move body diversity forward. But more importantly, we need to acknowledge how disturbing this attempt at a Miu Miu movement actually is. Especially when we've worked so hard to change it.
Young girls may not remember how damaging the 00s skinny girl era was, but it was not a good time for mental health or body image, or women generally. The elevation of skinny girl icons like Paris Hilton and Mischa Barton gave rise to the very worst of crash diet culture. It was a time when magazine fat shaming was par for course, and bloggers like Perez Hilton were revered for mercilessly attacking the appearance of young, famous women.
Love Fashion & Beauty?
Get the latest Fashion & Beauty news, features, updates and giveaways straight to your inbox Learn more
So why would we want to return there? Was all our work in the body diversity arena really just a 'trend' to be thrown away at the latest viral marketing campaign? Can we really risk all our body pride gains for a cute, $3,000 skirt?
We're already in the midst of a 'body image anxiety epidemic' that has ravaged our mental health and self worth — and when Miu Miu's breathtakingly low waistbands entered the chat, every woman's body anxiety went up yet another notch.
Recent research has found that 43% of Australians are 'highly concerned' with how they appear to others, and a whopping 70% said they wished they could change the way they look.
We live online more these days than ever before, wading into increasingly visual social media platforms that provide endless opportunities for others to critique our appearance — and for us to critique ourselves from every angle.
But Miu Miu is over here trying to convince us that a skirt design lifted straight from the 00s it girl playbook was "brave".
And it's not like they've had campaign imagery issues in the past right? Oh, wait — there was that one time they were accused for using an "irresponsibly skinny" model. And that other time they had an ad banned for appearing to sexualise a child. (Let's not discuss the fact that their 2022 micro-skirt has obvious schoolgirl overtones here, shall we…)
Alas, fashion media have also missed the mark here, with barely an op-ed decrying the concerning return to the 00s skinny girl era. In fact, in 2022, we're positively gushing about it.
We're creating odes to "why we love that Miu Miu look". We're unironically declaring the brand is breaking norms when in fact it's perpetuating the very ideals we've been fighting against for years. We're even making the body pressures of wearing simultaneously impossibly short and impossibly low-slung clothing gender inclusive. Wow — how very modern of us.
Yes, Miu Miu, as a brand, is intentionally subversive. Miuccia Prada's 'baby sister' to Prada is meant to be cheeky, satirical, and edgy, expressing all the things a big ship like Prada can't. "There's a rebellious edge to Miu Miu's codes which appeals to the rulebreakers," says WGSN's Anna Ross. "Miuccia has a knack of playing with the constructs of taste, brilliantly subverting [colors], shapes, and patterns in ways which shouldn't work, yet work perfectly under her guidance."
But is there anything subversive about upholding oppressive women's body standards? Returning to an uplifting of the ultra-skinny? Arguably, if Miu Miu wanted to be more subversive, they'd take more of a lead from Rihanna's Savage x Fenty campaigns.
Because it does seem that the most subversive and controversial thing you can do in fashion is to put normal bodies in your clothes.
Groundbreaking, really.
Bianca O'Neill is a writer who has long aged out of the low rise demographic, and is based in Melbourne, Australia. You can follow her, writing for places like Time Out, Rolling Stone and Fashion Journal Magazine, over on Instagram at @ bianca.oneill.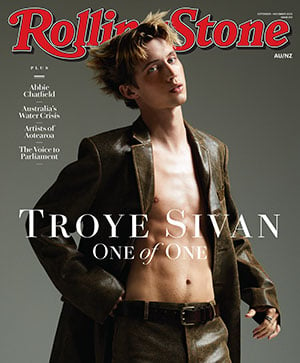 Get unlimited access to the coverage that shapes our culture.
Subscribe
to
Rolling Stone magazine
Subscribe
to
Rolling Stone magazine