Welcome to the Top 10 Podcasts of 2020. This list is unapologetically opinion, they are my personal Top 10 podcasts that both inspired, and got me through this "Rudy Giuliani" of a year.
2020 has truly been a break out year for the Podcasting industry, with Spotify paying $100M to license "The Joe Rogan Experience," and also purchasing podcast advertising platform Megaphone for $235M. Not to be left out, Amazon also acquired the domains podcast.com and podcasting.com as a signal of their intent in the coming 24 months.
In 2021, the momentum will continue and the top podcasts in each category are setting themselves up perfectly for massive paydays.
Here are my favourites:
The Top 10 Podcasts of 2020
1. Pivot (Tech and Business)
Scott Galloway and Kara Swisher have a fantastic chemistry, and their insight into business and tech is equal parts entertaining as well as informative. My favourite podcast in market by some distance.
2. All In Podcast (Business, Start Ups, Venture Capital)
The All In Podcast is new, and is only out once a week. It's hosted by a mix of business veterans and billionaires Chamath Palihapitiya, Jason Calacanis, David Sacks and David Friedberg.
They cover all things Venture Capital, The Economy and Politics and it's a super insightful and inspiring window into the way they think and assess various opportunities.
Also I need to mention my huge man crush on Chamath, checkout his amazing rant here where he said a "fuck you" to every rich millennial on a trust fund attacking capitalism.
Christian Hull's 'Complete Drivel' podcast is in the top 100 Comedy Podcasts in Australia and has hundred of thousands of downloads a month.
As Christian's manager, I feel incredibly lucky to work with such a genius, and his podcast is just as brilliant and loved as his "Need A Fuck" store.
The Shitshow podcast is the one podcast that has the highest rate of "omg I loved this!" response whenever I recommend it to someone. It is fucking hilarious.
Gus and Rig and two friends who talk about the shitshow that is planet earth; from weird cults to insanely stupid inventions, musical festivals run by infants to philandering politicians, the history of man is littered with terrible decisions and Gus and Rig talk about it all.
I don't listen to every JRE episode, but I pick and chose based on the guest.
I love that the podcast is a place where people from all walks of life, all diverse political views and thought can come on wrestle with big and small issues.
The JRE Experience is the anti echo chamber/bubble of the internet, and it's why a lot of people hate him for it, including many Spotify staff as they believe he is giving a platform to hate. I don't agree with that, I think without open discussion we will never find common ground and empathy.
Joe (in my view) is the only one truly talking to people of all political leanings and thought and it is why he is so successful. Also shoutout to Matt Saincome for my favourite tweet on the controversy.
Hi sharks, my idea is to spend $100m to buy the joe rogan podcast and then do my best to take away all the pieces of it that make it unique and super popular

— Matt Saincome (@MattSaincome) September 26, 2020
My favourite episodes in 2020 were Elon Musk, Kevin Hart, Tim Pool, Kanye West, Bill Burr, Ben Shapiro, Eric Weinstein, Bill Maher, Tim Dillon, Douglas Murray, Edward Snowden, Miley Cyrus and Alex Jones.
I come to Lew Later for the tech news, I stay for the entertainment. Lew Later's phrasing and back and forth with his producer Will might not be "Comedy", but it is hilarious.
Lew Later's personality is super funny, and I love his phrasing, perspective and reaction to tech news.
Okay, Whately isn't strictly a podcast, it's more catch-up radio. But Whateley is a my sporting man crush, I listen to him for all thing AFL, Cricket and Golf.
Morning Brew's Kinsey Grant sits down with the biggest names in business and asks them the questions you'd want to ask yourself. She is a fantastic host and I love listening to her explore the careers and news with her guests.
9. Planet Money
 (Business and Finance)
Imagine you could call up a friend and say, "Meet me at the bar and tell me what's going on with the economy." That is simply, the Planet Money podcast.
10. Fear At The Top
 (Music Business – yes this is the one I host)
I put myself in this list not because the host is good, but because the guests are. It's a huge privilege to interview the greatest minds in Music Business every month, it's both extremely inspiring for me personally, but also educationally.
We have a lot planned for 2021, including a new co-host. Stay tuned!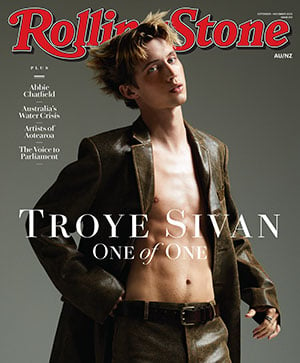 Get unlimited access to the coverage that shapes our culture.
Subscribe
to
Rolling Stone magazine
Subscribe
to
Rolling Stone magazine