We review the upcoming AYANEO AIR and find out if can dethrone Nintendo's mighty handheld and be a true competitor to the Steam Deck.
Remember when the best handheld device on the market felt like a brick, looked like a brick and only displayed black and green-ish hues? Probably not, to be honest, but needless to say we've come a long way since the humble GameBoy. And although a lot of talk online has focused on Valve's Steam Deck, you can't actually secure one of those on our shores. Enter AYANEO, a fresh tech company ready to take on the big boys with a slew of competitive products. The latest cab off the ranks is the AYANEO AIR and if you've got the cash, this thing will blow your mind.
The first thing you'll notice once you unpack the AYANEO AIR is how damn compact the thing is. At 224 x 89.5 x 17mm in size, the system isn't just smaller than the Steam Deck, it's even smaller than the Nintendo Switch. This thing is designed to literally fit inside a pocket and, believe it or not, it actually does. We tried. What you'll appreciate more is its actual weight – 395g vs. the Switch's 420g, and you'll instantly feel that difference in-hand. You can easily keep it propped up for extended game sessions without any strain and is as comfortable as you'd hope.
That's because AYANEO hasn't strayed too far from a classic design model here. You've got offset sticks, a d-pad on the left, four main face buttons (as well as a few setting-related ones) and four main triggers above. There are even an additional two buttons on the topside that we honestly didn't even realise until hours in. We tested out the white model and all things considered it's incredibly sleek, although the green-to-pink colour palate on the triggers might not be for everyone. We also started to experience some yellowing on one of the analogue sticks with is a little disappointing (so perhaps worth considering the black model).
But it's the inside that counts here and that's where the AYANEO AIR comes into its own. First off is the 5.5″ 1080P touch screen OLED display and it's the real star of the show for the unit. From the moment you turn it on the screen is mighty crisp and made every game we tried shine. Cult of the Lamb's rich colour particularly shined but every game we tested looked a million bucks. The Switch OLED might best the AIR in terms of size, but the sheer flexibility you can get via a Windows handheld is a big boon for AYANEO.
It's this core Windows backbone that takes the AYANEO AIR into a league of its own and perform wonders the Switch could only ever dream of. By implementing a fully functional Windows OS, the AIR can be used to play games on Steam, the Epic Games Store, Xbox Game Pass and everything in between. Actually installing said programs can be a bit fiddly with the touchscreen/analogue stick combo, but it's well worth the effort because once you have things up and running everything just works. AYANEO has even included its own user interface, AYA SPACE which can be accessed via a quick press of a custom button and collects all of your games – displaying them on the one frontend. It might not work perfectly every time, but for the most part is clean and effective.
Behind the scenes is an AMD 5560U CPU and 16GB of RAM. For those not well-versed in graphical fidelity, that means while you won't be playing Cyberpunk 2077 at max settings, the AIR is very capable at running modern indies and AAA blockbusters at lower settings. Cult of the Lamb, for example, ran flawlessly, as did other modern titles like We Are OFK, Midnight Fight Express and INSIDE. On the other end of the spectrum we booted up Spider-Man Remastered, and while we did manage to get it running at a steady-ish framerate, that was at the lowest settings possible which sent the battery dry in under an hour.
Love Gaming?
Get the latest Gaming news, features, updates and giveaways straight to your inbox Learn more
You'll squeeze a bit more juice if you decide to switch-up to emulation, which from all our test was an absolute dream. From GameCube to Xbox and Dreamcast, not only did all titles run without slowdown, with a bit of tinkering they looked better than ever with a 720p resolution that excelled on the OLED screen. Being able to boot up a completely stranded title like the 20-year-old Buffy on the go is something we could have only dreamed of before the AIR came along and it brought a hell of a grin to our faces.
It's worth noting that the power mode you set will largely determine what kind of general battery length you get, but it can range from under 60 minutes of high intensity to 3 hours and change if you load up a low-stakes indie. Battery life is without question one of the weaker points of the AYANEO AIR, but that's the price you pay for such a lightweight formfactor. The AYANEO AIR PRO model seeks to increase that slightly, but it's still not great and will likely provide some frustrations during lengthy trips. Thankfully switching the power mode is easy as can be with an easy pop-up screen that houses much of the AIR's technical settings.
At the end of the day though, no matter how much praise we throw at the AYANEO AIR, there is no getting around the system's biggest sticking point: its price. With a retail cost of $1249, you could literally buy yourself a PS5 and Switch and still have cash to spare. Because AYANEO is a much smaller fish in the tech world, that price is mainly due to the licencing deals required to get Windows on the device, but for the budget-conscious it's still a steep ask. It is worth noting however, that if you purchase via AYANEO's Indiegogo the base model available will only set you back around $718 – still expensive buch more more appealing.
That said, what you're getting for the price is still an incredibly enticing proposition. The AYANEO AIR has the potential to sidestep a middle-range gaming PC and is absolutely perfect for indie gaming on the go. Add in emulation capabilities and a truly beautiful screen and you'll certainly get your money's worth if you've been saving for a rainy day. The AYANEO AIR certainly won't be for everybody, but if you're the target market we promise you won't be disappointed.
Oh, and if you do pick one up, you'll likely also want to pick up a storage bag to actually protect the bloody thing. We used the AYANEO AIR x tomtoc Light Storage Bag, and not only is it custom-designed to fit the AIR and AIR PRO, it also followed the colour blend style of the system itself, which is a neat touch. We're not entirely sure on price and availablity for Australia, but it gets our thumbs up if you can track one down online.
The AYANEO AIR is available to purchase via Indegogo, and will also be in retail stores like JB Hi-Fi in November.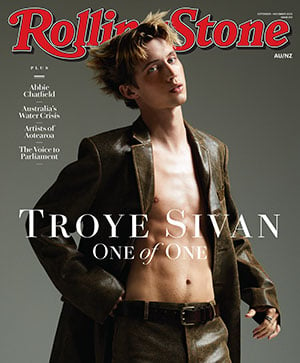 Get unlimited access to the coverage that shapes our culture.
Subscribe
to
Rolling Stone magazine
Subscribe
to
Rolling Stone magazine