Ever wondered what people eat for Christmas feasts in different parts of the world? It's not always a roast turkey or an Aussie seafood spread.
Christmas is a time for traditions. And one of the most sacred traditions for people each festive season is what they're going to put in their gobs. Each year, we mostly eat the exact same feast as previous years, yet we all still look forward to the big day we can scoff our mouths with all the scrumptious offerings our families have prepared. Year after year, the menu doesn't change… I guess that's why they call it tradition!
Unlike the snowy and freezing temperatures we're used to seeing and hearing in Christmas movies and songs, Australians experience Christmas in the summer heat. So naturally, our Christmas menu is a little different from our Northern Hemisphere counterparts.
At Christmas time, Aussies feasts involve bucket loads of cherries, light and crispy pavlovas, sprawling platters of seafood, and Christmas hams served cold. It's too hot for anything in the oven in the middle of an Australian summer! There are no roasting hot turkeys or steamy baked potatoes in sight.
But what do other people eat for Christmas? Let's take a look at some of the Christmas feasts from different countries around the world.
Spain
Roast Lamb is a festive favourite in Spain. While in Germany this succulent roast is served for Easter, in Spain the smell of lamb roasting is a nostalgic reminder of Christmas time.
People in Spain are also known to put out extensive arrays of seafood for Christmas time, with a Christmas meal commonly including prawns or lobsters, just like us! In the colder parts of the country, they choose to warm things up a little, serving seafood soups and stews instead.
Roast suckling pork is another Christmas favourite in many parts of Spain, usually accompanied with onions and potatoes. And to top it all off, another Spanish Christmas dinner special is Pavo Trufado de Navidad, which is turkey stuffed with truffles. Sounds delicious!
France
No French Christmas meal is complete without the famous Bûche de Noël or Yuletide Log. The delicious chocolate sponge cake, baked and decorated in the shape of a log, is the star of the Christmas dinner table in France.
As well as eating life-like log cake, the French are known to feast on scallops with herbs and cheese, known as Coquilles Saint-Jacques.
Brazil
Being in a warm climate during Christmas time like us, Brazilians tend to stay away from the steamy soups and roast veggie sides, instead chowing down on generous varieties of salads. The most common salads on Brazilian Christmas dinner tables include potato salad and Salpicão, which is a chicken salad.
While they do embrace the roasts, like turkey, pork, and ham, a Brazilian Christmas dinner is often centred around a Chester – a super-sized roast chicken with an extra-large chest and thighs.
Everything is served with rice cooked with raisins, accompanied by the Brazilian delicacy Farofa (toasted and seasoned manioc flour with salt, butter, spices, and chopped crispy bacon).
Philippines
The day is usually started with Bibingka, a rice and coconut baked cheesecake. What a Christmas breakfast!
A Christmas dinner staple in the Philippines is called Kawali. It's tender and crispy pork, glazed with oyster sauce and served with rice. Pork seems to be popular on the menu for Christmas in the Philippines, as another favourite is Lechón de Leche, or roasted suckling pig. The country's national dish is usually spit-roasted over charcoal and flames, complete with an apple in its mouth, and is eaten at all major Filipino celebrations, not just Christmas.
Following the main pork feast, the consumption continues with another sweet cake made from rice, called Puto Bumbong. It's traditionally prepared by dying the rice purple, grinding it down, steaming it inside bamboo tubes, and serving it on a banana leaf with margarine, grated coconut, and super sweet sugar, like molasses or treacle.
Japan
The Japanese do Christmas like no other, with fried-chicken their must-have Christmas dinner staple. There are no hours spent slaving away in the kitchen preparing a giant feast for days, no, the Japanese order KFC! Yep, in Japan you can spend your 12 days of Christmas thinking about the finger licking goodness made with 11 herbs and spices.
It all started with a successful marketing campaign in the 70s: Kurisumasu ni wa kentakkii a.k.a. Kentucky for Christmas. Since turkey is almost impossible to find in Japan, the Colonel's fried chicken tradition took off. It's become so popular that nowadays you need to order months in advance of Christmas or line up for over two hours on the day.
Christmas in Japan is more of a party with friends kind of holiday than a family celebration, and usually also includes champagne and Kurisumasu Keiki, a strawberry sponge cake.
Mexico
Since turkeys are native to Mexico, it makes sense that Mexicans would feast on turkey (known as Pavo in Mexico) for Christmas. They also eat the traditional codfish as many other nations around the world do, but Mexicans have many other festive treats on their dinner plate too.
Chiles en Nogada is a delicious Mexican Christmas dish, comprised of fire-roasted peppers stuffed with meat, covered in a creamy walnut sauce, topped with pomegranate.
Tamales are another tasty snack eaten at Christmas time in Mexico. They're basically cornmeal dumplings, filled with various meats or beans and steamed in a corn husk or banana leaf. But these little beauties are pretty time-consuming to prepare, which is why they're saved for special occasions like Christmas.
After the main meal is over, many Mexicans move on to Ensalada de Noche Buena or Mexican Christmas salad. The salad is usually a colourful assortment of fruits and vegetables, often including apple, orange, carrot, pineapple, lettuce, beetroot, and pecans.
And last but certainly not least are Bunuelos. The crispy fried sweet treats, which are sort of like a flattened-out donut without the hole, are covered in sugar and cinnamon or syrup. Delish!
Germany
We all know Germany loves a Christmas market, with their love for celebrating the festive season continuing to thrive each year.
Popular German Christmas foods include gingerbread (duh!) and Stollen. Stollen is a kind of fruit cake made up of spices, rum, and a sugar coating, with its origins dating back to medieval times.
Germans wash it all down with yet another spicy, cinnamon-y addition: Glühwein. This German version of mulled wine is a staple at any Christmas celebration, staving off the freezing temperatures with the warm red wine mixed with spices, citrus, and sugar.
Norway
This one is not for the weak stomachs… In Norway, they eat sheep's head for Christmas. Known in Norway as Smalahove, the delicacy is prepared by removing the fur, skin, and brain, before being salted, smoked, and dried.
When Christmas time comes around, it's then boiled or steamed and served with potatoes and Aquavit (a strong spirit distilled from grain and potatoes).
Sorry Norway, you can keep that one all to yourself.
Italy
Food in Italy at Christmas time brings to mind one thing: the Feast of the Seven Fishes. Suffice to say, Italians gorge on a spread of seafood at Christmas time.
The banquet often includes dishes made up of calamari, fish, clams, prawns, and eel, and is usually combined with pasta, of course.
Poland
While the delicious Polish dumplings known as Pierogi are eaten year-round in Poland, at Christmas time they're paired with a beetroot soup. The popular festive combination is called Barszcz i Pierogi.
Hunter's stew, or Bigos in Polish, is another hearty meal on the dinner table at Christmas time. It's made up of various kinds of meats stewed with sauerkraut, plus fresh cabbage too, and loads of mushrooms.
On the sweet side of things, Polish people splurge on Chruściki or Angel Wings, a sugary fried donut sort of treat, twisted into the shape of a bow tie.
Argentina
Vitel Toné is a popular dish served for Christmas in Argentina, comprising of a platter of cold, sliced veal covered in a creamy anchovy and tuna sauce, topped with capers.
As in Australia, it's hot at Christmas time in Argentina, so it's not uncommon to see Argentinians cooking up a BBQ outside on Christmas Day, grilling endless amounts of meat.
Dessert often comes in the form of fruit salad as well as breads, pies, puddings, and different kinds of nougat.
Russia
Many Russians start their Christmas Day with Sochivo, a sweet porridge made of grains, fruit, and nuts, topped with a sweet sauce often including honey.
Zakuski, or appetisers, then kick off the main feast. Known for their salty, sour, or fishy flavours, they're meant to be eaten after each shot of vodka to break the palate.
Another traditional festive meal in Russia is called Holodets. The winter warmer is known in English as meat jelly or Aspic, and is a soup-like dish made up of beef or pork, boiled until the broth becomes gelatinous.
Demark
Traditionally, red cabbage or Rødkål is an important part of a Danish Christmas feast. It's usually served with roast pork and crackling, plus the usual roast dinner sides like potatoes and gravy.
But Risalamande is the show stopper when it comes to the festive season in Denmark. The cold rice pudding dessert is topped with hot cherry sauce and usually served with cream. The best part is: traditionally it has an almond (or sometimes even a tiny toy) hidden inside, so the game is on to see who gets the lucky prize in their bowl.
Ethiopia
Doro Wat is the staple served at Christmas in Ethiopia. It's essentially a spicy chicken stew served on a sponge bread called Injera, served with hard-boiled eggs. The bread is used to scoop up the stew and eggs, and is usually eaten together with one giant communal dish.
Peru
Just as the Germans drink their spicy hot red wine at Christmas, the Peruvians drink spicy hot chocolate!
La Chocolatada is a traditional Christmas dessert in Peru and consists of the delicious spiced hot chocolate served with a slice of the popular Italian cake called Paneton.
The rich hot chocolate is made with evaporated and condensed milk for extra creaminess, plus a combination of spices like cinnamon, nutmeg, cloves and even chilli powder.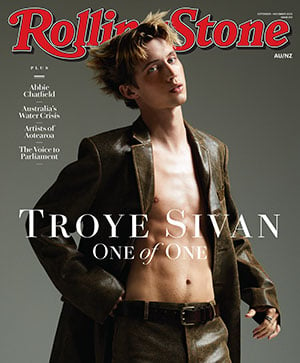 Get unlimited access to the coverage that shapes our culture.
Subscribe
to
Rolling Stone magazine
Subscribe
to
Rolling Stone magazine