You can't travel right now, but you can binge food travel documentaries instead. Here are our top seven picks to help kick your travel cravings to the curb and add some new locations to your list for 2022.
The coronavirus has put a halt on all our travel plans for the past year, but on the flipside has given us a lot more time to catch up on TV shows and perfect some skills in the kitchen.
During the pandemic-induced enforced lockdowns, many learned the art of baking sourdough bread, while others clocked up countless hours of some much needed Netflix and chill. So, we combined our yearning for some wanderlust with our need to upskill in cooking, and binged a ton of travel food docos for you, so you can put these goodies at the top of your watch-list.
In no particular order, here are our top travel documentaries that (while not great for your waistline) will help fill your travel void:
Somebody Feed Phil
Somebody Feel Phil follows the travels and eating experiences of Phil Rosenthal, who's most widely known as the creator of long-running sitcom Everybody Loves Raymond. Across 22 episodes in four seasons, the show takes us to locations around the world, from Bangkok to Tel Aviv, Cape Town to Venice, Marrakesh, Montreal, and others in between.
Each episode focuses on one city and lasts around an hour, giving us insights into local history and architecture, and you guessed it – the food!
Rosenthal is a quirky, funny, daggy-dad character, and bands together a throng of locals to show him what's good to eat in their towns. He visits some high-end fine-dining restaurants, but mainly sticks to budget-friendly and street food options. At the end of each episode he video calls his elderly parents to recap what we've just seen, rounding out the episodes with a sweet homely touch.
Love Travel?
Get the latest Travel news, features, updates and giveaways straight to your inbox Learn more
Originally released in 2018 (with the most recent season in 2020), we even managed to travel to some of Phil's restaurant tips in Copenhagen before the pandemic hit and can confirm his tips are worthy!
All four seasons are available to stream on Netflix.
Ugly Delicious
Renowned chef David Chang takes us on a two-season, 12-episode journey of food envy, as he travels to culinary hotspots throughout the world. Each episode in Ugly Delicious highlights one dish or concept, like pizza, fried chicken, home cooking or "kids menu", to name a few.
The award-winning chef is joined by well-known guests, such as Jimmy Kimmel and Aziz Ansari among others, as they travel the world eating sometimes ugly but always delicious food. Local guests also share their culture and history with Chang, as well as some tricks of the trade in the kitchen.
The first season was released in 2018 and the second in March of 2020, and you can catch all the episodes on Netflix.
The Chef Show
Two seasons, of four volumes, equalling 25 episodes of cooking classes with Jon Favreau? Yes please, sign us up!
The Chef Show feels almost like a behind-the-scenes look at what it would've been like when chef Roy Choi had to teach Hollywood funny-man Favreau to cook, for the 2014 blockbuster film he wrote, directed and starred in, Chef.
The two have banded together again to travel the world, visiting world-renowned chefs in their famous restaurant kitchens. The chefs teach the pair to cook local cuisines, with some added servings of great banter as Choi continues to help Favreau hone his skills in front of the talented chefs.
A celebration of different flavours and cultures, with a side-dish of guest cameos from stars like Seth Rogen, Gwyneth Paltrow, and even David Chang, the two friends offer up half-hour, easy-watching episodes that will likely teach you a thing or two, too.
You can stream all the seasons, released in 2019 and 2020, on Netflix.
Taco Chronicles
As the name suggests, this show features the damn delicious Mexican dish that is the humble taco. There are two volumes, totalling 13 episodes, and yep – they're all about tacos. So, if a tasty hand-sized tortilla bursting with a range of delicious fillings is your thing, this show is definitely for you. And if it isn't, this is probably the show that will convince you otherwise.
The show is all in Spanish, so you'll have to bear through subtitles for its entirety, but that just makes the whole thing feel more authentic and adds to its charm.
Taco Chronicles shows us the ins and outs of different kinds of the favourite Mexican street food, highlighting their varying forms and ingredients while explaining their origins.
The half-hour episodes released in 2019 and 2020, feature interviews from chefs, street food vendors, food writers and experts, and can all be streamed on Netflix.
Destination Flavour: Japan
MasterChef Australia season two winner Adam Liaw, takes us on "a journey of culinary discovery through Japan" in Destination Flavour: Japan. Embracing the paddock-to-plate philosophy, he meets with farmers and cooks in big cities as well as remote areas, highlighting the delicious delicacies of Japanese cuisine along the way.
He travels the nation, much loved by Aussies for its good food and great snow season, celebrating all kinds of tasty treats, from seafood to sake, and even cheesecake. He visits kitchens of Michelin star chefs, as well as the homes of locals, offering an array of cultural learnings from different sides of the table.
Although released in 2013, this collection of episodes is available to stream now on SBS Demand.
F-ck That's Delicious
F-ck That's Delicious stars rapper, and former chef, Action Bronson, as he travels the world with his mates to test out good foods in all corners of the earth. The Viceland docuseries showcases foods from fine-dining restaurants, street food vendors, and fast-food joints, as the group of rappers, chefs and other special guests eat their way around the world.
If you're not keen on seeing a bunch of people eat an enormous amount of food, and we mean ENORMOUS, this show may not be for you – the gang put away more food than we've ever seen on any other show before. But if you're up for some fun rapper banter and some insight into tasty tucker in different countries around the world, you're in luck – Bronson and his crew provide four seasons and a whopping 42 episodes for all of your binge-watching pleasure.
You can catch 2020s season four, plus seasons one and two on SBS on Demand.
Luke Nguyen's Railway Vietnam
While this two-season offering from Luke Nguyen was first screened in 2010 and 2011, thankfully this year SBS re-aired the 20 episodes of Luke Nguyen's Railway Vietnam. The show follows the Vietnamese-Australian chef as he travels the northern regions of the country of his heritage.
Cooking and eating his away around Vietnam via its rail system, Nguyen shares with us his own recipes and those he learns from locals along the way. He visits breath-taking mountain views, remote countryside towns and bustling cities too.
Nguyen shares what feels like an authentic experience of Vietnam, in one particular great episode cooking on the railway tracks as the locals do, moving all the cooking equipment out of the way each time a train passes. What a thrill!
You can watch all the episodes, plus a ton of other great food travel docos from Nguyen on SBS on Demand. (Too many to mention them all here, but all worthy of a watch!)
And if all of those still haven't quashed your need for travel and good food combined, other honourable mentions you can watch on Netflix right now are: Breakfast Lunch & Dinner with David Chang, Street Food Asia and Street Food Latin America.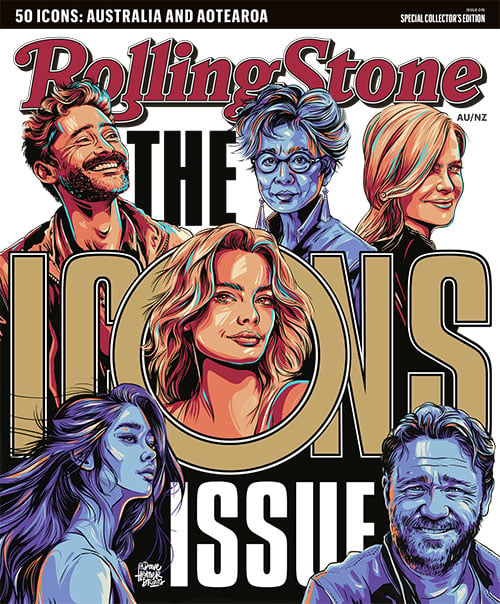 Get unlimited access to the coverage that shapes our culture.
Subscribe
to
Rolling Stone magazine
Subscribe
to
Rolling Stone magazine