The Community Manager/Producer of Friendlyjordies has quit, following yet another controversial rant from the popular YouTuber.
In a statement made yesterday on his Twitter account, the community Manager announced his departure from the team and the show, citing conflicting beliefs and being unable to continue his work "in good conscious."
I am quitting Friendlyjordies

Read: https://t.co/7Deydqd98P

— Matt_AU (@Matt_AUIRL) November 14, 2020
Here's the post in full:
I am quitting FriendlyJordies

It is with sadness, but also frustration and relief, that I am resigning from my position at Friendlyjordies. I have been a part of the Friendlyjordies team since the beginning of 2019 and since then I feel I have contributed much to the growth and success that we have had on our podcast as well as helped build a community of people who all stand behind the common goal of bringing Australia away from the direction we are heading.

Love Comedians?

Get the latest Comedians news, features, updates and giveaways straight to your inbox Learn more

However the continual and ongoing handling of controversies; both past and present, internally and externally, has driven me to part ways with the team and the show. I feel I cannot continue to work on and support Friendlyjordies in good conscious. Somewhere along the way the channel and the show that I once loved lost it's way and I cannot continue to help spread a message that I no longer wholeheartedly believe in. I joined this team as a way of feeling like I was helping to contribute positively to society in someway; unfortunately I question whether or not that is the case anymore.

I wish the boys the best of luck with their future endeavors and hope that the work of Friendlyjordies ends up being a net positive in the long run.
The resignation comes after Friendlyjordies (whose real name is Jordan Shanks), allegedly made disrespectful comments about the sacred Djab Wurrung trees – trees which have gained significant media attention recently after the Victorian government cut one down to make way for a highway in the state's west.
Friendlyjordies ranted on his podcast, which has two million downloads, allegedly mocking Dreamtime stories and defending the removal of the trees sacred to Australia's First Nation's people.
After being asked "Can we really be telling [Aboriginal people] what trees are or aren't sacred when they got their sacred land back after being displaced?"
Shanks responds with an enthusiastic "Yes!"
He continued, "It's called science. I'm sick of this shit," before going on to joke about the well-known Dreamtime story of The Rainbow Serpent:
"The giant snake sucks! It's called a carpet python…
"When Indigenous people were saying that that's a sacred tree, no! Like science is science."
As one of the other hosts interjects and questions whether this is a respectful conversation to be having in the middle of NAIDOC week (a week where Australia celebrates the history, culture and achievements of Aboriginal and Torres Strait Islander people), another is heard saying "What week?".
@friendlyjordies racist attitudes towards us on full display during NAIDOC week. A THREAD:

– Claims that no sacred sites can come into being post invasion. This reinforces the racist beliefs that our Cultures are past, dead and unrecoverable.https://t.co/eosuP1FkbC pic.twitter.com/bTMOE6eC1o

— ?Tim☀️Buchanan? (@Tbuch2) November 11, 2020
But this doesn't stop the controversial comedian from continuing his line of commentary, adding more remarks about genocide – and ending with: "science counts for everything."
This is not the first time comments from the YouTuber (who has almost half a million followers) have come under fire, the Sydney born political commentator being involved in a string of controversies over recent months. The 31-year-old has been accused of downplaying sexual assault, posting homophobic tweets, and other alleged racist remarks in the past.
So it comes as no surprise the Community Manager had enough of dealing with the show's backlash online.
Thanks Steph, it's been something that I've been considering for the past few weeks now. Tried to treat it no different to my dayjob and just as something to pay the bills with but at the end of the day the conscience won out

— Matt_AU (@Matt_AUIRL) November 14, 2020
Unsurprisingly, there have been calls for an apology from Friendlyjordies as First Nations people and allies react to the comments. Nich Richie, an Indigenous journalist, called for all 3,695 Patreon supporters of Friendlyjordies to stop their backing and instead spend their money supporting Indigenous Australians.
But an apology from the popular podcaster is looking unlikely at this stage, as Friendlyjordies has since been doubling-down in the comment sections of his channels.
Previously backed by Kevin Rudd, the ex-Prime Minister asserting Shanks should be treated as a serious journalist, the self-proclaimed "lowbrow humour" comedian may have reached the lowest of lowbrow with this one.
Note: The original version of this article included a claim that Friendlyjordies used "air quotes" while making remarks about genocide.  That was incorrect – he only used air quotes while referring to another person's remarks – and the reference has been removed from the article.  The Brag apologises to him for the error.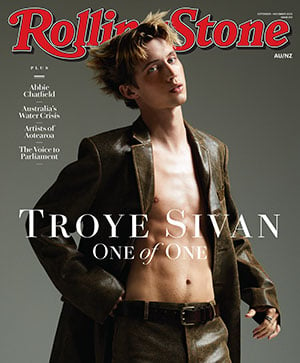 Get unlimited access to the coverage that shapes our culture.
Subscribe
to
Rolling Stone magazine
Subscribe
to
Rolling Stone magazine