The Australian version of the global reality television phenomenon, Married At First Sight, has recently come under scrutiny from its American viewership. A term used in the show, perceived by some as 'racist', has sparked controversy, igniting a dialogue on cultural sensitivities, linguistic differences, and the complications arising from delayed international broadcasts.
The Term That Stunned American Viewers
An American Reddit user expressed their discomfort after hearing the phrase 'Chinese whispers' used on the Channel Nine series. Originally denoting a children's game, wherein a phrase or sentence is passed from one person to another through whispers, this term has unexpectedly triggered a wave of discomfort among international viewers.
"To me, that's a pretty nasty racial slur. Is this phrase common in Australia? I was pretty shocked. We always called it the 'telephone game'," the viewer wrote.
Cultural Differences or Offensive Language?
Australian fans were quick to clarify that 'Chinese whispers' is a phrase commonly used in Australia and New Zealand, even in professional settings. This doesn't mean the fans were saying it was an acceptable term, but rather that it was still commonplace in society. Anecdotally, usage is dropping in recent years. Many Australians consider the term offensive.
Interestingly, another user pointed out that the name of the game varies geographically, with labels such as "Russian scandal" or "Arabic telephone" used in other countries.
Love Film & TV?
Get the latest Film & TV news, features, updates and giveaways straight to your inbox Learn more
The Time Lag Complication
Adding an additional layer of complexity to the controversy is the fact that the U.S. broadcast of MAFS Australia is several years behind the original airing. The season in question aired four years ago in Australia, and the term's use reflects societal norms and language appropriateness of that time. This highlights the challenges faced when content is aired internationally with such significant delays.
MAFS Australia's Global Impact
Despite this recent controversy, the Australian edition of Married At First Sight continues to be a global hit, having been sold to territories including Britain, the Netherlands, and New Zealand. Meanwhile, its U.S. version remains the highest-rated show on America's Lifetime network, commanding millions of viewers each week.
This controversy underscores the importance of cultural understanding and the need for consideration in language use, especially in globally syndicated content. As the world of television continues to bridge cultural gaps, it is imperative to navigate these conversations with sensitivity and respect.
The writer used AI tools to publish part of this article. The Brag Media relies on journalists to fact check & edit all articles regardless of any AI tools used.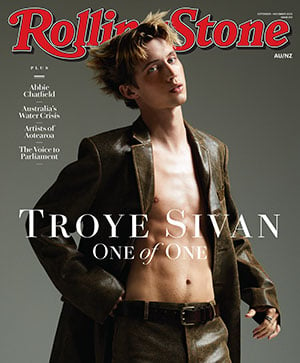 Get unlimited access to the coverage that shapes our culture.
Subscribe
to
Rolling Stone magazine
Subscribe
to
Rolling Stone magazine