Since making the switch to oat milk, I haven't looked back. It tastes good, froths up nicely, and is a great alternative in cooking and baking too.
I've never been a fan of milk. I love cheese and cream and other dairy-based goodies, but milk? No thank you, I'll pass.
Growing up, my brother would down a glass of plain milk basically any time he was hungry and wanted a quick snack. But the thought of that would make me want to hurl, I don't know how he did it.
In primary school in the 90s when the government forced us to drink milk every day (to boost our nutrition and prop up the dairy industry supposedly), I would opt for the light alternative Rev over full cream milk, simply because it was the least milk-tasting milk on the menu.
But since drinking Milo is a cultural obligation of being an Australian kid, and drinking coffee is a cultural obligation of being a Melburnian adult, inevitably milk is and always will be a part of my life.
I've tried out a few plant-based non-dairy varieties over the years, sadly to no avail. Soy milk is not for me, it tastes watery, super sweet and just weird. Almond milk tastes like you've thrown a bunch of nuts in your coffee – no thanks. To be fair, I never gave rice milk or pea milk a chance, but from the get-go they just both sounded a bit too, um, gross.
Luckily, in walked oat milk
Since I discovered oat milk, I've never looked back. While mild and neutral in flavour, it's rich, has a creamy consistency and a thicker texture than the other plant-based milk alternatives. Because of this, it also has the ability to froth up as dairy milk does, making your latte just as satisfying without altering the taste. And it's the perfect replacement in cooking and baking too. Though the colour is slightly beiger than the glowing-white of dairy milk.
Love Food & Drink?
Get the latest Food & Drink news, features, updates and giveaways straight to your inbox Learn more
If you're lactose intolerant, follow a vegan diet, or have nut allergies, I'm sure oat milk is already on your radar. But even if you're none of those, like me, oat milk might be the milk substitute you've been looking for.
And it seems like I'm not alone in my change of consumption. From March to June 2020, oat milk sales were up 289% year-over-year. Starbucks even added it to their menu. Suffice to say, it's quickly going mainstream.
But oat milk isn't exactly new, I guess I just took a while to catch on. It's been around since the early 90s, when it was first developed in Sweden by the founder of Oatly, a popular oat milk manufacturer. In the last few years it's really begun to take off, due in part to a successful rebranding and subsequent marketing campaign by Oatly – a campaign I'll admit was the main catalyst in my interest in and consumption switch to oat milk.
According to choice.com.au, "oat milk has surpassed almond milk as the fastest-growing dairy alternative" in the US, and "Australians' interest in oat milk has increased roughly six-fold over the past five years."
So what exactly is oat milk?
Basically, oat milk is just oats soaked in water, then blended up until it's all smooth. Its simplicity is another reason for its growing popularity – it's easy to make at home if that's something you want to try.
But is it good for you?
If you're looking for a low-fat option, this might not be the milk for you. While it's lower in kilojoules than cow's milk, of all the plant-based varieties oat milk has the highest amount of calories and carbohydrates (which is what gives it the creamier consistency).
But the slow-burning carbohydrates are full of gut-loving fibre that will keep you fuller for longer, can help lower cholesterol, and are nutrient packed. Oat milk, like soy, contains more vitamin B-2 (or riboflavin) than dairy milk.
As I mentioned earlier, it's also great for those with dietary restrictions like nut allergies or lactose intolerance. But it's not always recommended for people with gluten intolerance or celiac disease, as it can sometimes contain traces of gluten. So make sure to check the label before you give it a try, just to be sure.
What about the environmental impact?
Oat milk is the current winner of the environment debate, followed closely by soy. According to a study by the University of Oxford, oat milk has the smallest impact on the environment compared to all other milks.
The BBC's environmental impact calculator concurs. Comparing one glass of each milk, oat milk produces the fewest greenhouse gas emissions, requires the smallest use of land, and has the least water consumption.
Add to that Oatly's sustainability efforts when it comes to production, packaging, and transport, plus oat milk's longer lifespan (meaning less spoilage).
Keen to try it out?
The good news is, oat milk varieties are readily available in Coles and Woolworths, although be prepared to shell out a little more dough than you'd spend on dairy milk.
Due to its ability to be heated and frothed up like regular milk without curdling, it's becoming increasing popular among baristas and can now be found in hundreds of cafés Australia-wide too.
You can even check out this cool interactive map to see which of your local cafés are serving up Oatly.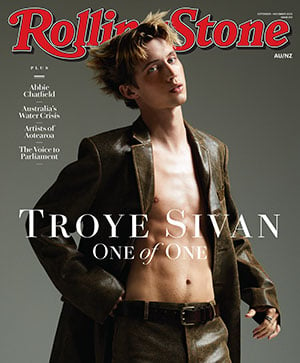 Get unlimited access to the coverage that shapes our culture.
Subscribe
to
Rolling Stone magazine
Subscribe
to
Rolling Stone magazine