Forget organising office cheeseboards or picking up your phone to google what in the hell 'charcuterie' actually means because Shalini Nestor, the founder of Swish Biscuits over in Canberra wants no part of it.
Instead, this bloody culinary genius has taken a beloved national food – the humble pav – and turned it into a 2019 Christmas miracle. Naturally, the internet lost its mind, so feast your eyes on the Pavola grazing board. We'll give you a minute to marvel at its glory.
If you've got yourself a sweet tooth, this tasty treat is perfect – decorated with numerous pillowy puffs of meringue accompanied by little jars of passionfruit, salted caramel, lemon curd and whatever else your heart desires.
The best part about this dessert hack is that you can easily sub in whatever fillings you like most, giving you to create the pavlova of your dreams at the table.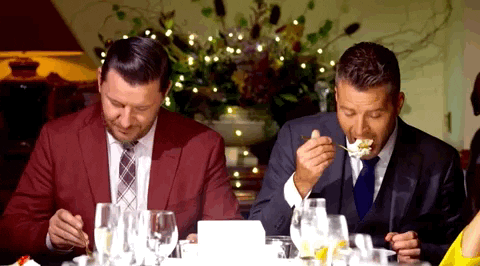 Naturally, the hardest part is the meringues, but Nestor provided a quick and easy solution that any budding MasterChef can create:
Whip up 8 eggs until thick and foamy, then slowly beat 1.5 cups of caster sugar until it becomes thicker and glossier in consistency.
Mix 1.5 teaspoons of cornflour with 1. teaspoons of apple cider vinegar and beat it into the meringue.
Perfectionists can then draw 8cm circles on baking paper, then spoon the meringue mixture onto the template.
Bake for an hour at 120 °C then switch it all off and allow everything to cool down with the oven door slightly ajar.
If your Christmas lunch is anything like ours, with the dessert table acting as the ultimate family battleground to determine the winner of ultimate praise, then you'd be a fool not to try your hand at this. Somebody get Shalini Nestor an Order of Australia.
Alternatively, Baby Yoda cookies could also work, because they're just so god damn adorable.