It's finally time – the next generation of video games has begun, so for the last week we've been taking Microsoft's new Xbox Series S for a spin and review. Here are our thoughts…
What's in the box?!
While much noise has centred around the gargantuan size of the Xbox Series X, the Series S on the other hand is a mighty small machine – in fact shockingly so. Measuring in at 15.1cm x 15.1cm x 30.1cm it's the smallest Xbox ever released thus far, and that means I had no trouble whatsoever trying to fit it inside my entertainment unit.
Placed down horizontally, you'll likely have ample room on either side for ventilation and its sleek design means even if you have a wannabe Shaynna Blaze in your household it'll blend in effortlessly. The clean white is a nice change of pace from the usual black boxes, and I've been enjoying the pop of brightness it provides. It's also whisper-quiet – thank our lord 2020. Never once did I hear the console whirling about, which is a nice change of pace from the PS4 Pro which sounds like a jet engine ready for take-off.
Want to get technical? Learn about the Series S' internals:
It's worth pointing out, however, the machine's compact size does come with a few concessions and that's where things start getting a little more complicated. First up: there's no disc drive with the Series S, meaning if you wanted to play old Xbox games that you still own the disc for… yeah, you're shit outta luck, my friend. That also means any game you want to buy going forward will be locked to the Microsoft store at whatever price they dictate. Food for thought.
The other major factor relates to overall power. The Series S packs 4 teraflops, while the X packs 12, but for all those that don't study tech mumbo-jumbo, essentially Microsoft claims those numbers will only affect the console's resolution. The Series X is capable of true 4k, while the S caps out at 1440p.
If you haven't upgraded your television in the last few years, that means the S is a perfect option that provides great bang for your buck. If you do have a fancy new set, the S will still upscale to 4k, and in all honestly your eyes probably will be none the wiser. We didn't have a Series X to conduct a direct side-by-side comparison, but trust me when I tell you that the games on offer are still plenty pretty. The bigger question is whether or not later games will struggle on the S over the next few years, but honestly at this point that's anybody's guess.
Back to the numbers, and thanks to a performance that is three times faster than the older Xbox One, it allows all of your games to load lightning fast – my testing for this review highlighting significant decreases in the titles I tested from my older system to the Series S. This newfound power also allows quick resume – helping you to instantly return to the exact point you left a game, even after you turn the console off. In fact, while testing this feature it took less than 10 seconds for the console to turn on and take me straight to my save in Hellblade: Senua's Sacrifice. It's damn fast and damn impressive. Applause all around, Xbox.
Games for days
With the tech jargon out of the way, let's move on to the real meat and potatoes of this console – the games – and that's where things get a little more interesting. Microsoft was really hoping to trot out its crown jewel Halo Infinite, but due to a recent delay and some dramas afoot that's certainly not the case. Unfortunately that leaves a bit of a hole in the launch line-up, which now relies more on third-party offerings like Assassin's Creed Valhalla and Yakuza: Like a Dragon to pick up some of the slack.
The big ace up Xbox's sleeve though is Game Pass – a subscription service (with prices starting at $15.95 a month) that provides access to a roster of over 100 rotating titles that can be downloaded and played on your Xbox at any time so long as you keep an active membership.
That currently includes bangers like DOOM Eternal, The Witcher 3 and Batman: Arkham Knight, but also offers up all games published by Microsoft, meaning future heavy hitters like Halo and Forza will be yours to play right away for no extra cost. Make no doubt about it, this is the best value deal in video games. The industry equivalent of 50c burgs at Maccas.
Still confused about Game Pass? Watch this!
Using the service is an absolute breeze, and linking up the respective smartphone app is also mighty handy – allowing you to start downloads and manage games when you're away from home.
The one caveat to all this good news is that with the Series S' smaller 500GB hard drive (which actually equates to less space once you consider the OS), it won't be long before you're forced to start juggling games and prioritising your list.
My Xbox Series S console capped out at nine games during the review period, but with behemoths like Call of Duty: Black Ops Cold War set to demand 133GB, that number could dramatically shrink in time. You can always pick yourself up a 1TB expansion card, but it'll currently set you back $359, so it might actually end up easier to just upgrade to the Series X if space is a deal breaker.
Entertainment centre
Although the Xbox Series S is capped at 1140p for gaming, video streaming can still go all the way up to 8K HDR if you have a spare 30 grand hiding in your sock drawer. What we're trying to say is, if you want to catch the latest season of The Mandalorian in 4K Dolby Vision, that's 100% possible and it looks great. Netflix, Amazon Prime Video and Stan were all available for our tests, and Apple TV will be added come launch day which is a neat little addition.
Speaking of Dolby, if you make a small one-time payment for the service you can also get Dolby Atmos audio pumping from your compatible soundbar. Alternatively, if you have a partner or roommate who prefers a bit more quiet, you can also hook up a pair of headphones and enjoy the same degree of spatial audio.
For my Xbox Series S review I used Turtle Beach's new Stealth 600 Generation 2 headset which was an absolute cinch to set up and provided excellent sound quality with zero wires. In games like Senua where sound plays a critical role, or even your standard Netflix show, it was an absolute game-changer.
The unit packs a flip-to-mute microphone, has a strong durability and, most importantly, comfortable earcups that packs in new 'ProSpecs' technology for glasses wearers, which actually helps prevent them from digging deep into your skull. I should note though that they are a bit on the smaller side, so if you know you have a larger head, maybe give it a try first to be safe. Otherwise you can pick one up here.
And the controller?
If it ain't broke don't fix it – that's the mantra Microsoft has employed with the Series S' controller, meaning there's not really a whole lot to talk about here. The general shape and layout remains untouched save for a new Share button in the middle, allowing you to capture screenshots and record video clips more easily.
There's also some extra texture on the triggers for better grip and a more circular d-pad which is perhaps a bit too clicky for my liking, but I accept that it's an incredibly nit-picky criticism on what remains an exceptionally solid controller.
Internally, Microsoft is touting improved latency and better Bluetooth compatibility but honestly unless you're an Esports competitor, you probably won't notice all that much. What is nice though is the fact that the controller is also compatible with Xbox One, Windows 10, Android, and iOS. What I'm trying to say is… controller controls good. That's the hot take, folks.
TL:DR
If you've shamelessly sidestepped the deep dive and skipped straight to the juicy conclusion, here it is: the Xbox Series S is an impressive new console that lets you enter the next generation of video games for an equally impressive price – $499. Couple that with a Game Pass subscription that will net you all Xbox exclusives for just $11 a month and you're snagging yourself an insanely good deal. Just make sure you're happy with a smaller hard drive and a lower resolution. If that's all gucci then you're in for a hell of a time. Game on.
Want to win yourself an Xbox Series X? Of course you bloody do, so click right here.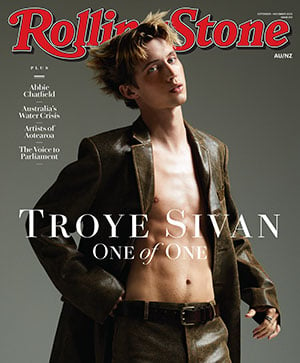 Get unlimited access to the coverage that shapes our culture.
Subscribe
to
Rolling Stone magazine
Subscribe
to
Rolling Stone magazine