We review Mario + Rabbids Sparks of Hope, NBA 2K23, and go hands-on with Sony's INZONE H9 Wireless Noise Cancelling Gaming Headset.
When Mario + Rabbids Kingdom Battle first launched back in 2017, it took everybody by surprise. An XCOM-inspired strategy title that blended the Mushroom Kingdom and those annoying Rabbids? Madness. Yet somehow, it was a genius combination that was packed to the rafters with charm and challenge. It's sequel, Sparks of Hope, takes that concept and runs with it. The basic strategic gameplay remains largely the same, but the team has smartly iterated on core elements, not just to make battles a smoother affair but make the whole experience feel more open.
When we spoke with the game's lead producer, Quentin Correggi, he explained that's because the team wanted players to feel player freedom (or agency) in every aspect of the game. "Planets are broader & more open to allow our players to choose which activities they want to do next, alternating between main and side quests, solving puzzles, investigating mysteries, and collecting useful rewards along the way," says Correggi.
"In Combat the freedom comes from our innovative Real Time control gameplay. Removing the grid and cursor allowed players to directly control their heroes. This brings a lot of dynamism and agency in Battle. For example, heroes can now strike a Bob-omb, take it and quickly throw it on another enemy before it explodes! The Real Time control in combination to the powers of the Sparks and the synergies between our heroes' abilities open tons of new tactical opportunities for players to experiment with."
You really feel that freedom in-game, too. By removing the more rigid path structure, battles feel more flexible. You can perform multiple actions while constantly on the move, really boosting the strategic chops of the game. The survival-focused missions were especially devilish and forced some intense multitasking that took a few goes to get right.
We also enjoyed spec'ing out our team and working out which combo best suited our playstyle or the mission at hand. Balancing the agility of Mario with the power of Bowser, for example, allows for a lot of creativity, but according to Correggi the traits go even deeper. For example, "Luigi is shy and anxious, so we gave him the Sharpshooter with a long range, so he can overcome his fear and fight enemies at a distance." Makes sense.
Add on the elemental powers of the titular Sparks and there's a hell of a lot of systems to keep track of, and while it's initially overwhelming, learning when to use which skill is incredibly satisfying.
Love Gaming?
Get the latest Gaming news, features, updates and giveaways straight to your inbox Learn more
The only real downside to Sparks of Hope is the Switch itself. The hardware just isn't as capable at producing the game's various worlds as it was five years ago, so some environments come off a little muddy, blurry and just generally washed out. We're also not entirely sure why the game isn't fully voice acted – some dialogue exchanges including the first line or two than awkwardly transitioning into a strictly text affair.
According to the game's Audio Director, Romain Brillaud, the interesting choice to evolve the Rabbids into speaking characters came early in production. "We felt that giving the Rabbids the ability to talk was needed to expand their range of emotions," says  Brillaud . "This means that every Rabbid protagonist is embodied by a voice talent and has now the ability to speak actual words". With that in mind then, it's an odd choice to not go all the way and have every line voiced.
Those minor niggles aside, Mario + Rabbids Sparks of Hope is an exceptional follow-up that comes highly recommended. It's got enough challenge if you want it and is perfect for gaming on the-go. Fingers crossed the next iteration can push things even further with a bit of extra grunt behind the scenes.
Mario + Rabbids Sparks of Hope is out now on Nintendo Switch.
Also out now…
Sony INZONE H9 Wireless Noise Cancelling Gaming Headset
Sony is no stranger to the headset game thanks to its wildly popular WH-1000XM5s, but it's been a bit more hesitant in the gaming space. The new INZONE brand looks to change that courtesy of its high-end Sony INZONE H9 headset.
Designed for use with both PC and PlayStation gaming, the H9 is shooting for a premium offering, and taking the headset out of the box it sure looks the part. The white and black finish is sleek, with a few neat lights to show you when the unit is powered on. All things considered it's definitely on the bulky side (adding a bit of width to the shell of Sony's WH-1000XM5s) but it's not at the expense of comfort. Thanks to a healthy dose of padding, the H9's are surprisingly one of the comfiest headsets we've used in quite some time. The soft-fit leather ear pads are insanely fluffy and do well to mesh to your ear without the band causing any kind of painful restriction. They also help keep the unit lightweight enough for extended gaming sessions.
All this padding helps amplify the H9's noise cancellation features, which are pretty darn impressive. In a busy household we were downright shocked at how much background noise it cut out – with only loud kitchen appliances bleeding through slightly. It gives you plenty of opportunity to enjoy the soundscape of your video game, which we never had any complaints with. Soundscapes were felt full-bodied and on PS5 the Tempest 3D audio was top-notch as expected.
Where the H9 falters slightly is its microphone which is admittedly pretty average. The output just lacks oomph, meaning you'll have to actively speak louder for discord calls or party chats. It's also slightly disappointing to the mic itself doesn't detach, which adds to the overall bulk and will make you less likely to take the H9s with you on the go in a pinch.
That said this is a unit designed for home use, and if you split your gaming across PS5 and PC, the H9's nifty dongle (included in the box) lets you easily switch between systems. We never had any issues pairing with either platform nor experienced any kind of audio cut-outs or lag which is a big win.
If you've already picked up the Pulse 3D headset for the PS5 at launch, shelling out the $449 price tag for the H9 might be a bit of a tough sell, we get it. But if you've been holding off and saving for a more luxurious setup, this pillowy-soft offering is certainly worth considering.
You can buy the INZONE H9 Wireless Noise Cancelling Gaming Headset from the Sony Store.
NBA 2K23 (PS5, Xbox Series X/S, PS4, XBO, Switch)
The NBA2K series cemented itself as the premier basketball title some time ago and 2K23 continues to be no exception. While the gameplay is just another example of refinement instead of a complete overhaul, it remains best in class, and the best virtual representation of the game available on the market. With such strong foundations, it has given the team to expand on adding in new modes instead – best of which is arguably the NBA Eras mode.
If you're interested in NBA History, Eras is an invaluable tool – teaching newcomers about the past or helping long-time lovers of the sport relive some spectacular moments. Then there's the Jordan Challenge which lets you play through some of the superstar's biggest moments in his career. It's all great stuff, especially if you've become as addicted to The Last Dance as we have.
Where NBA 2K23 comes unstuck is with its continued reliance on microtransactions. It's plagued the series for a while now, but it remains the case that ignoring this cheeky attempt at nabbing a few (or lots of dollars) will just make your progress pretty slow-going.
You can always opt to ignore the lures, but we are hopeful that next year will feel a little less on the nose.
Return to Monkey Island (Switch, PC)
Ahoy mateys, if a swashbuckling adventure is what you seek then this long-awaited follow-up will do the trick. Thanks to series creator Ron Gilbert being thrust back in the chair after 30 years it's a a long-awaited follow-up that thankfully hits the spot and is a charming throwback to yesteryear.
As for the adventure itself – expect plenty of highly refined point-and-click gameplay that delicately balances nostalgia and humour. There's also puzzles aplenty but none should prove too tough and there's always the option to notch down the difficulty. Also worth noting is that for those not already heavily invested into the series a smart scrapbook will bring you up to speed with the tale far and its major players.
As for the new artstyle, it may have caused some controversy with hardcore fans but while the retro asethic is gone, we're big fans of the new approach and is especially beautiful if you have an OLED display that makes the game's colours pop. Ultimately this is one game worth walking the plank for.
For more on this topic, follow the Gaming Observer.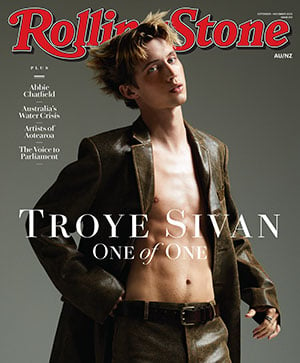 Get unlimited access to the coverage that shapes our culture.
Subscribe
to
Rolling Stone magazine
Subscribe
to
Rolling Stone magazine