Terry Crews is stirring the pot on Twitter once again, and this time he's taking aim at beloved adult entertainment website, PornHub.
As calls to defund the police grow louder across the US in the wake of the ongoing Black Lives Matter movement, Brooklyn Nine-Nine actor Terry Crews has a very different enemy in his sights – pornography.
Shifting his Twitter rants from his recent criticism of the BLM movement to preaching the evils of porn, Crews wrote: "DEFUND PORNHUB," tagging the anti-porn organisation "Fight the New Drug."
Fans were not happy, with one user writing: "Dude, no. Masturbation is healthy, self love is healthy. PornHub gives safe platforms to sex workers – to say nothing of the artists who got kicked off Tumblr – and generates revenue for them."
"Are there issues with the industry? Absolutely. Is going after PornHub the answer? No," tweeted another user.
Um… but they're funded by customers, not tax dollars. I'd support a boycott but getting people to swear off porn while cities backtrack phases for COVID seems to be choosing the wrong battle for the moment.

— Peter Coene (@Coene_Arts) July 15, 2020
The 51-year-old has previously spoken out about having a porn addiction and in 2016 he revealed in a Facebook post that had once entered rehab to treat addiction after wife Rebecca King-Crews threatened to leave.
"For years, years, years, my dirty little secret was that I was addicted to pornography," he said he first video he posted at the time.
"It really, really messed up my life in a lot of ways," he said. "I didn't tell anybody. It was my secret. Nobody knew. And that allowed it to grow…. By not telling people, it becomes more powerful. But when you put it out there in the open, just like I'm doing right now, it loses its power."
Meanwhile, PornHub have been active supporters of the BLM movement, with the website releasing a statement pledging their solidarity and donating to equality organisations. They also famously offered free premium accounts to encourage people to stay inside during lockdown.
"Pornhub stands in solidarity against racism and social injustice. If you are able, we encourage you to give to organisations," the website tweeted at the time, tagging civil rights organizations like Bail Project, Black Visions, Freedom Fund, Southern Poverty Law Center, and the NAACP.
"We pledge to support by donating $100,000 to organisations actively fighting for equality. We hope you will join us," the statement added.
In response, Fight the New Drug – the company mentioned in Crew's tweet – immediately criticised PornHub, noting the many racist videos it hosts on its site.
"No, you don't. If you're anti-racism, why do you host the following videos on your site?" the organisation wrote. "'Black Slave Punished by White Master' – 'White Cops F*** Black Chick, Force Boyfriend to Watch' – 'Gang Banged by Blacks" – 'Skanky N****r gives a Blowjob' – 'Black Slave Girl Brutalized.'"
Crews also found himself in hot water just last month after making comments regarding the BLM movement.
"If you are a child of God, you are my brother and sister. I have family of every race, creed and ideology. We must ensure #blacklivesmatter doesn't morph into #blacklivesbetter."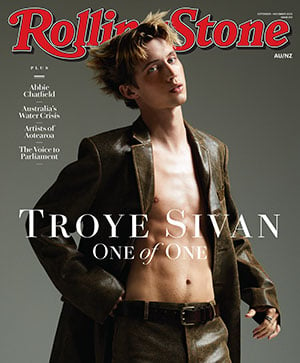 Get unlimited access to the coverage that shapes our culture.
Subscribe
to
Rolling Stone magazine
Subscribe
to
Rolling Stone magazine